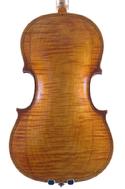 Gasparo da Salo
This viola model is modified from a Gasparo da Salo viola built around 1580. There are two sizes available, 15 5/8"(39.7 cm) or 15 7/8"(40.3 cm). Both sizes have a relatively short string length of 14 3/16" to 14 3/8" (36.0 to 36.5 cm) and the upper bout is neither square nor very wide to accommodate a small hand. This facilitates easier upper position playing. The full arching combined with a smaller body helps to maximize sound while minimizing discomfort and potential fatigue.
This instrument can be commissioned to be well antiqued to appear 300 years old! Photos of originals can be viewed to give the musician some choices.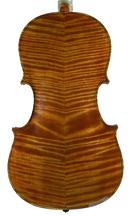 1785 J.B. Guadagnini

This Guadagnini model viola has a shorter body, only 16", but a regular string length of 14 5/8" (372 mm).
Shorter body without the shorter string length provides the player with a projecting sound, the body design guarantees a true alto quality and the 16" overall length minimizes fatigue in the left arm and shoulder. This viola model has won 2 gold medals, in 2000 and 2004. Being a shorter body speaks well for this design. Competing with dozens of instruments much larger it was one of a 2 or 3 winning this distinction.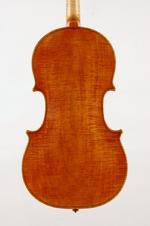 1676 Andreas Guarneri

This viola is modeled from a 1676 Andreas Guarneri. It has been a very successful model and won a gold medal in 2006. It's body length is 16 3/8", with a string length of 14 5/8" (373 mm).



©
2019 Scott Studios, Inc. All rights reserved.
Scott Studios, Inc. ~ Minneapolis, MN ~ 763-544-1021 ~ scottviolins@comcast.net